Miscellany Monday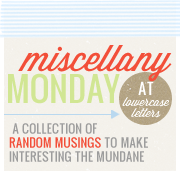 This is my FIRST time linking up with
My husband and I have recently undergone quiet the diet change! We have started counting calories, we switched all beef to turkey, and I started drinking organic milk, while he is drinking Almond Milk!
2) My husband is done with school for the semester!
Mondays and Wednesdays I get him all to myself! :)
3) My son slept through the night for the past two nights!
I was shocked and amazed! 7 hours straight! Woohoo!
:)
5) Check out this beautiful blog I came upon yesterday!