I'm awkward and awesome!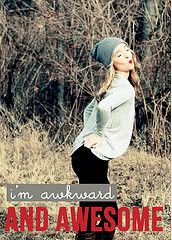 I visited the coolest blog today, thanks to my friend Kassie, where she had her button on her blog...The Daybook by Syd. I was on her site for just a couple minutes and loved her already! And, I found this link on her side bar, where it led me to a link party that sounds like too much fun! So I'm linking up with her today and sharing some of my awkward and awesome moments!
Awkward:
* Going to an ugly sweater party and you and your husband are the only ones wearing ugly sweaters (what?!)
* A friend's van window imploding right on top of you
* Talking baby poop talk with other mom's on facebook...needed, but still awkward
* When your son walks up to a stranger at Coldstone and wants them to hold him...5 times in a row
*Thinking someone means one thing, when they meant the exact opposite
*Skype date with a friend and not having a webcam- realizing this as we are skyping
* Not knowing what DIY meant *blush*
Awesome:
* Being a part of this amazing online forum where Grace and Love abound, and where you can share your struggles without being judged
* A husband who is willing to get 5 hours of sleep a night just so that he can stay up with you and the baby
* The book "Lost Mission" by Athol Dickson. My husband and I are reading it together and it's incredible!
* We get school grant money soon, which will help with Trevor's books...$400? Really people?
*I have a penpal! I love writing and receiving letters!
*We got a lamp in our living room finally. It's awesomness for only $20.
* Dancing to "Hey Soul Sister" with your boys :) UH-Mazing

(I will post a good long blog soon! stay tuned!)