Miscellany Monday
It's Monday...well, for about another 3 hours or so.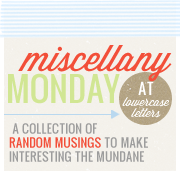 I'm throwing a swap-party on the 28th of January, and I am really excited about it! I have been thinking about it for the past few weeks, and just jumped right in and created an event on Facebook about it! I've never thrown a party like this, but I think it will be a blast!!
P.s. A Swap party is where you all bring random things from home that you don't want anymore, and put them all in the middle of the table, then everyone gets to pick something out, till everything is gone!
Katherine Hepburn...amazing. Beautiful. Brilliant. My husband and I are loving her movies lately! Paired with a bowl of homemade popcorn, you have yourself a grand date-night!
*3*
Wanting one of these right about now in this snow storm....
I do not do well driving in storms, and especially not when my husband is driving. Talk about anxiety attacks!
*4*
I love
Julie Busby
. Go check her out, she's amazing! She'll love you no matter what and offer your grace wherever you are. And she started this amazing
new forum
! You have to go visit!
Have a wonderful week my friends!!