Project 365
I have a feeling that 2011 is going to be a great year. I'm not sure what it will hold, or whether that greatness will be tough or easy...(When is greatness ever achieved easily?) So this year, I am committing to taking 1 picture a day for a year. I tried to do it a couple months ago and it fizzled and died quickly. But I have renewed hope for this goal of mine, for I have found a link party that is doing it too! Hopefully this will help keep me accountable.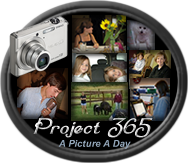 I will be taking 1 picture a day for a year, and posting on Sundays about the week of pictures.
Here is my first batch!!
January 1st
This Thielke family spent the very first day of the year with another Thielke family! My in-laws came down to spend Christmas with us. It was so much fun! Here is a picture of Jeremiah in his new pj's while his Grandpa reads him his new book before bedtime!
The next day was spent having some more family time.
Here is Trevor with his parents and his children. I thought this was a cool picture!
Lately my little Judah Cub has been having the worst tummy pains and gas! He will only sleep for about 20 minutes at a time, then he's up screaming in pain! I've tried gripe water, gas drops, helping him by pushing his legs, and finally someone gave me some advice on letting him suck on a candy cane...even that didn't work...I'm sorta at a loss with this little one.
Trevor and I decided to build a fort in our living room and have a movie/snack day.
Jeremiah loved it! He was having so much fun playing on the cushions and hiding inside of it! It was so much fun! We watched "Stargate: The Ark of Truth." It was actually not too bad!
My husband won a gift card to Red Lobster a while ago, and we hadn't had the chance to use it. So we finally decided to order it and bring it home! It was AMAZING. We love sea food and this hit the spot. We also got a 99cent bottle of sparkling grape juice and watched a Katherine Hepburn movie (or new favorite thing to do together.) It was a glorious night!
I was doing laundry and folding the sheets, and suddenly remembered that when I was a little girl, I used to LOVE when we did the parachute for gym time...
you know...that huge multi-colored sheet where everyone held onto it
and you throw it up in the air then run and sit on the edges and watch it sink down? Loved it.
So I decided to try to reenact it with Jeremiah...guess what?
On Friday, our wonderful friends took us out to an amazing restaurant...Carnaval Brazilian Grill! It's our new favorite! It was so incredibly decorated, as if you were on a tropical island and they had live music and the most wonderful food. It was awesome.
This isn't my picture...but it's the restaurant! I forgot my camera!
Saturday we had fun dressing Judah up in hats...here is one of them! He wasn't very amused!
I love it when Jeremiah wakes up from a long nap and his cheeks are rosy!
He is just adorable. :) I'm biased though.