P365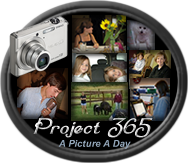 Super Bowl Sunday
My husband and I decided to make Sunday a night at home. No Super Bowl parties! We got updates on the game via Twitter, which was "super" intense...hehe. Then we played games! Our favorite is Whonu? You are supposed to play it with 3 or more people,
but we re-designed it so we could play with just us.
See that big stack of coins? Yeah, that's mine. :)
We tried finger painting again. The last time we did it Jeremiah ended up in tears because he couldn't eat it, and he didn't understand why. So I delayed it for a few weeks.
We tried it again, and he loved it! Although, I'm making a memo that next time to not do it right before nap. He was just a taaad cranky :) It was fun though.
This day was my catch up on laundry day, and I purchased some new laundry products. Our clothes smell oh so good!
Wednesday was the start of my second week watching McKenna. She is just adorable! She got all of Jeremiah's books and made a "tower" as she liked to call it. Then proceeded to walk on the "tower." So fun!
I've been getting up really early lately, and I love it. This morning I had opened the curtains earlier than usual, and I saw this light coming in. I had to capture it. Isn't it gorgeous?
We got bored playing with toys, so Judah was the entertainment. He just steals our hearts every single day. I love Jeremiah's smile in this one!
Saturday we decided to walk the mall, and we let Jeremiah out of his stroller for the first time. He bypassed so many stores, never once going inside of them, until he got to the expensive, glass filled clock and lamp store! He got so many smiles and "awww"'s from people...and I have to say, he was super cute. Look how tiny he looks!
Blessings on the week ahead friends