Thoughts of Spring...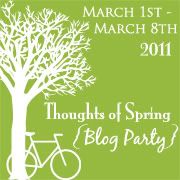 I am linking up with Lynnette over at Dancing Barefoot on Weathered Ground for this awesome Spring Blog Hop! Come join us!
Hi! I'm Marybeth Thielke. I have a tiny little family of 4, and we are perfect for each other. Every single one of us is an odd ball. Let me introduce you to them....
This is Trevor. He is freshly 21 (woop!) and works at Starbucks full-time and goes to school full-time. He became my other half when I realized, "Crap! I don't have my other half!"
We're like Ketchup and Mustard, Pizza and Coke, Hippopotamuses and those little birds that sit on top of their backs all day and peck the livin' daylights out of em'.
He's my hooseyband and I'm his little wifey darlin'.
This is Jeremiah, 17 months old, and our first born to inherit all that we possess...sorry son. He was the perfect baby, then he turned 1 and traded bodies with a crazed hyena. Just kidding. But seriously. He is teething right now and they are all coming in at once. Some days I could just...well, hug him of course.
And this is Judah, 3 1/2 months old, our second baby son, and he who makes us laugh and giggle all day long. He is the most high-maintenance baby on the face of the earth, but we are working on that. He can laugh, talk, roll over, grab things, and melt our hearts.
Now...me! Here are some of the questions I answered for this little blog hop of a good time!
How would people describe your personality? (If they could only use ONE word.) Are they right?
Oh Gosh...I'm pretty sure people would say shy. And they are right! But once you get to know me, watch out! I'm crazy!
Be brave – tell us something very random and weird about yourself.
I'm so weird. Seriously. My sisters are the same way. We make odd noises all the time, we say very odd things at random times, we do dances that we couldn't do again if our lives depended on it...we're just plain weird. But that's why our family/friends love us!
Do you have a strong desire to do something you've never done? What is it?
I really have the desire to go on a really long road trip across the US. Buy a small RV and just drive. I would take tons of pictures and journal the whole time.
If you inherited a million dollars, what is the first thing you would do with your money?
The very very first thing I would do is give about $500,000 of it to charities, churches and the poor. Who needs 1 Million dollars all to themselves? Seriously.
Name one weakness of yours (confession is good for the soul).
Right now, it's food. I like to blame it on the breastfeeding, but when it comes down to it, my husband works nights, I'm lonely, so I watch tv shows online and eat. Not healthy. Working on that.
What is one of your favorite things to catch a whiff of?
Burning wood. Burning anything really. Maybe it has something to do with growing up on a couple acres and my step-dad burning everything, down to the dead chickens the foxes killed. I don't know.
Books: Fiction, Non-Fiction, Romance, Biographies, True Stories, Self-Help, Devotional/Study? What are your favorite types of reading material?
I could read anything you put in front of my face, just because I love to read. My favorite reading material, though, are fiction fantasy out of this world type of books. Preferably the Christian ones. But those are kind of hard to find.
Well, there is everything you ever did not care to know about me! Hope you enjoyed the sneak peak into the life of Marybeth.